CUTTING OF LAMINATED GLASS
Futonics lasers can cut the plastic foil in between layers of glass. When paired with glass-cutting tools, laminated glass can be cut in both straight and contoured lines in a precise and automated process, offering a wide range of laminated glass shape cutting possibilities.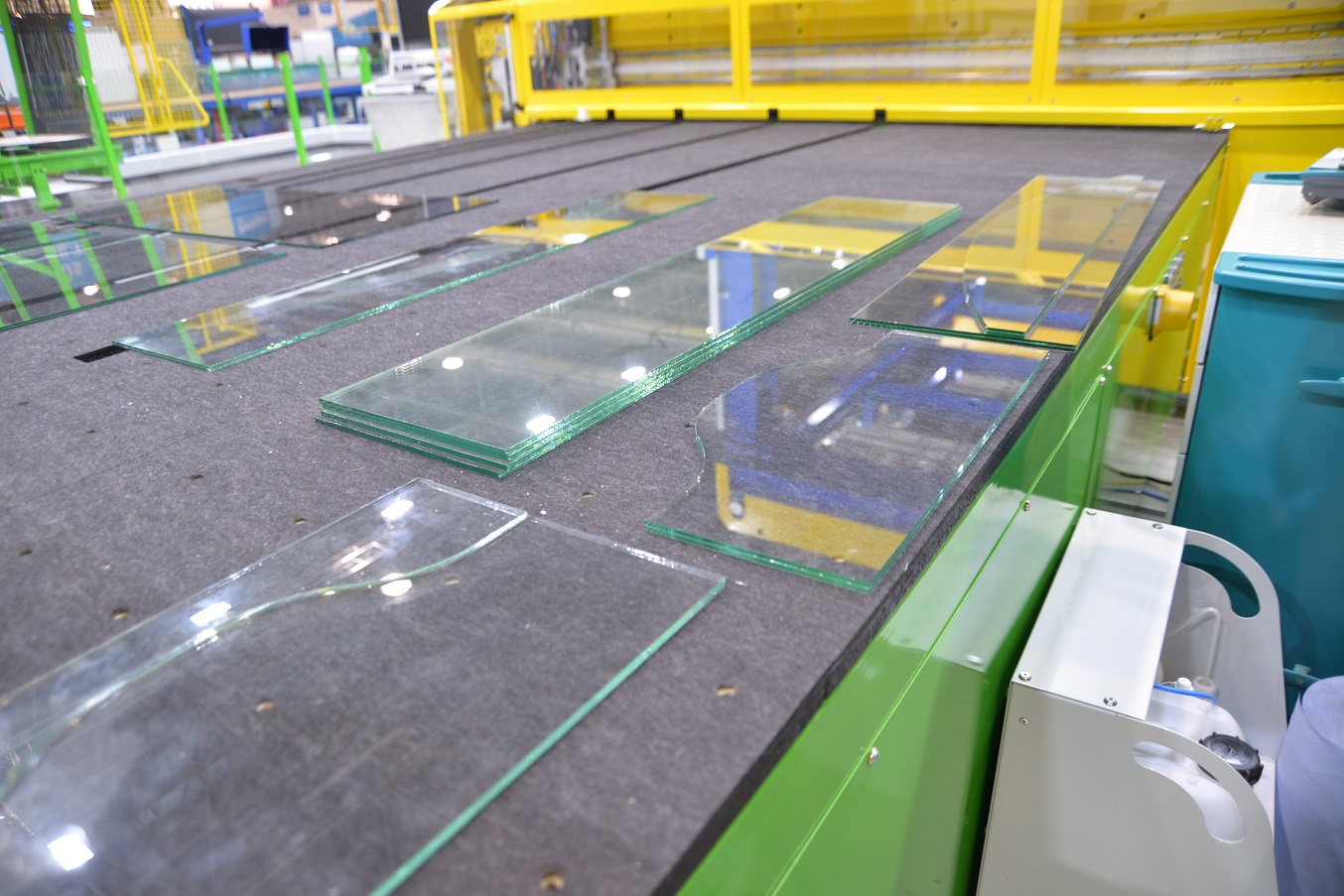 Current laminated glass cutting technology involves scoring the glass, breaking it, and then applying infrared radiation to the cutting area to soften the plastic foil. The foil is then separated by pulling the cut glass pieces apart or by using cutting tools. The nature of this method means that laminated glass cutting is limited to straight edges.
Because the separation is perfomed by physical means, the plastic layer on the resulting edges can often have undesired modifications. When the separation is performed with cutting tools, the plastic on the edges can be jagged and in need of further processing. When the cut glass is separated by means of pulling the two pieces apart in order to break the polymer layer, small gaps between the glass layers are created on the edges where the plastic is partially pulled out.

Laser cutting of the plastic layer in laminated glass paired with traditional diamond cutting offers several advantages over current state of the art methods. Thanks to the intrinsic absorption of plastic at the specific wavelength of the laser light emitted by Futonics laser systems, the plastic foil between the layers of glass can be cut through the glass. This allows for all sorts of conceivable shapes. The need for infrared heating is eliminated, and clean cuts are achieved whereby the edges of both the plastic and glass layers are perfectly flush with each other.


BREAKTHROUGHS
Contoured laminated glass cutting
No infrared heating
Clean cuts
In a collaboration between Futonics Laser GmbH and HEGLA GmbH & Co. KG, the world's first contoured laminated glass cutting machine has been developed. It was demonstrated at the Glasstec international trade fair in 2016 and 2018.


VIDEO DEMONSTRATION
Most images and the video were kindly provided by HEGLA GmbH & Co. KG.